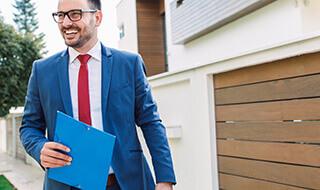 Interesting in the legal aspect of real estate? Do you want to assist clients with the technical aspects of buying or selling property? If so, becoming a real estate lawyer may be a good career option for you. Read on to learn more about how to become a real estate lawyer.
Real estate transactions can be filled with uncertainty and paperwork complications. Due to this complexity, many turn to real estate lawyers to ensure a smooth and error-free transaction. Real estate lawyers can assist with every step of the transaction process from pre-close contracts, financing and inspection details to closing documents and follow up requirements.
Much of real estate work consists of reviewing documents, researching property regulations and territorial boundaries and attending pre-close and closing sessions for property transactions. This work can be on behalf of private clients, corporate clients or even for real estate brokerage firms. The real estate lawyers can work on any type of real estate transaction.
Lawyers are one of the highest paid professions in the United States. With an average starting salary of close to $70,000 and an average of over $110,000 for seasoned lawyers, this field is highly attractive and competitive.http://www.bls.gov/oco/Ocos053.htm Over 25 percent of lawyers work in a private practice, but lawyers can also work in a law firm, as an employee of a company or in education teaching law or college students. http://www.bls.gov/oco/Ocos053.htm
Step 1: Go to Law School to Become a Real Estate Lawyer
Getting into law school is highly competitive. To improve your chances of law school entrance, attend a highly regarded undergraduate institution. You can major in any discipline, but for Real Estate Law, it is advisable to obtain a business degree or English degree. A business degree will help you understand the transactions involved in real estate and the real estate market, while an English degree will help improve your critical reading skills.
Undergraduate grades as well as your scores on the LSAT (the law school standardized entrance exam) are used by law schools to select candidates, so it is best to get high marks in school and score well on the exam. Prepare for the LSAT through a formal review course offered by Kaplan or other company or review LSAT study guides.
Apply to law schools that offer a concentration or classes specifically on real estate law. The better your foundation in your chosen law discipline in law school, the better your chances of success once you start working as a real estate lawyer. During breaks at law school, consider getting a clerkship at a law firm that specializes in real estate law. This exposure will help increase the connection between coursework and real world work as well as provide connections and experience that you can use when looking for your first job.
Step 2: Pass the Bar Exam in your State to Become a Real Estate Lawyer
Each state has requirements for admittance into the bar, which is necessary to practice law in that state. For most states, you must pass the bar exam and an ethics review exam called the Multistate Professional Responsibility Examination (MPRE).http://www.bls.gov/oco/Ocos053.htm The bar exam is considered an intense exam that requires significant preparation.
The bar exam covers many general areas that are considered foundational knowledge for any lawyer including constitutional law, evidence, criminal law, contracts and real property. While you may not need some of these areas to practice real estate law, you are still required to pass each section to obtain your law license.
You can study for the bar exam by obtaining study guides, or by taking a review class such as one offered by BarBri Bar or other company. The exam is typically 6 hours long and in a multiple choice and essay format. Some states allow you to take the Multistate Bar Exam and obtain a license to practice in multiple states, while some states will not recognize a bar license from other states. http://www.ncbex.org/multistate-tests/mbe/ Some states require the 3 hour Multistate Essay Examination as part of their testing process.http://www.bls.gov/oco/Ocos053.htm
Step 3: Start Working in Real Estate Law
Most lawyers start their careers in salaried positions at law firms in associate positions.http://www.bls.gov/oco/Ocos053.htm This allows them to gain experience while working with real estate lawyers that possess more experience.
When you look for your first job after passing your bar examination, look for a firm with a strong reputation and concentration in real estate law. Your goal will be to gain as much exposure as possible to different real estate issues that you may come across throughout your career.
After working in a law firm for several years, you must choose your long-term career objective. You can choose to stay in the law firm setting and work towards becoming a partner in the firm. You can also choose to start your own private practice or work for a large company as an in-house lawyer. Each route has different benefits, so you should match your personal work style and objectives with the setting where you would prefer to practice real estate law.
You should also work to establish your connections in the real estate industry in your area. Real estate lawyers often work closely with real estate brokerage firms, real estate agents, closing companies and even the government registrar's office. To increase your prestige and opportunities, it is helpful to develop a good working relationship with the different people in this network. If you are known as a reliable, efficient, easy-to-work with real estate lawyer, the amount of work that comes your way will likely increase.